"BENKI MARK" means valuation standard of toilet equipment in every facility.
"BENKI MARK" indicates 5 points of the following terms:
Neatness and Cleanliness
Contactless Equipment
Anti Bacteria and Virus Equipment
Setup Statements of Toilet Bowl
Total Convenience and Amenity
---
It is no point of facility and shop service and profit. Only toilet statement description and personal impression.
---
BENKI MARK 活動に寄付をお願いします。
Please donate if your pleasure.
---
Super Market Toilet in Kanazawa city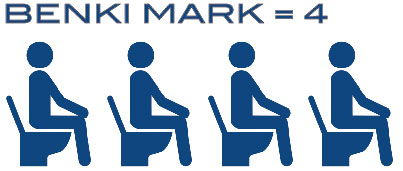 Clean toilet bowl and equipped with water shower function.
Especially, touchless washing and hand soup equipment. It is very cleanliness, everybody`s benefit.
Unfortunately, no store place of baggage and outer wear.